Makeup Artistry

Makeup Artistry Certificate Program 
Be a professional makeup artist
Empower yourself to become a professional artist.
For people of all skill level, courses can cater to those with basic skills or those looking to sharpen their skills to retain a competitive edge. Learn how to master the right tools and techniques to remain at the forefront of style, trends, fashion, makeup with these certificate programs:

Bridal Makeup Artistry Certificate Program 
Duration: 5 days
Time: Daytime and evening classes available
This five-day course will develop the skills and techniques required for latest Bridal Makeup Looks. Build your confidence in professional Makeup Artistry for a wide range of occasions including special events, weddings, glamour, red carpet and parties.
The training is focused on building skills with hands on training. This program is extremely intense and packed with lot of information to take home and practice the art with right tools and guidance received.
Makeup Artistry Certificate Program has a pre requisite  to be at least at a beginner level of Makeup Artistry. We offer a beginners class to some one who is new to this field and would like to start with Basics first. For a student who is working at a cosmetic counter or has had some previous makeup training, may enrol directly into the Advance Bridal Program.
*Beginners Makeup Artistry – 1 Day class ( 4-5 hrs)
*Advance Bridal Makeup Artistry – 4 Days Class ( 4-5  hrs each) Models are required for these classes to practise what's taught in class.
   We have two packages to choose from –
Advance Bridal Makeup Artistry program without a Makeup Kit.
                                                    OR
Advance Bridal Makeup Artistry Program with a Makeup Kit.
Follow up for more details by filling out our contact form.
Bridal Lounge would love to work with you for a beauty lesson in makeup application. Nupy will show you step-by-step professional techniques in applying Makeup for the results you desire.
REGISTRATION
To register for Bridal Lounge, Certification Program and reserve a seat, you'll need to submit your name, program of interest and arrange payment for the 50% booking deposit. Class size is limited and places are reserved on a first come, first served basis.
Register now: email us at Bridal_lounge@yahoo.ca
CERTIFICATION PROGRAM DETAILS
Booking deposits of 50% are required at time of registration
Full payment is due on the first day of class at the latest
Program is open to applicants 16 years and older
PROGRAM COMPLETION
Successful completion of the Bridal Lounge, Certificate Program is based on an assessment to ensure students have got the essential hands on training that will inspire and motivate graduates to excel in their career. Upon graduation, past students have found successful opportunities as freelance artists, business owners and beauty consultants with cosmetic companies. Bridal Lounge, is committed to building the continuous success of our graduates by inviting and informing them of upcoming events, fashion shows, photo shoots, media, TV, film, etc. and giving graduates ongoing opportunities to build their skills, confidence, portfolio and expand your business.
As a professional artist, graduates will be entitled to beauty industry professional discounts at whole sale beauty supply stores.
Makeup 101 Class
Enhance your personal makeup skills
This class is for some who is interested in learning Makeup Art for themselves. Makeup 101 class  will be strictly catered to yourself as per your skin type, tones, what colours suits you, your face shape, eye shape etc and what would be the best looks for day time and evening for yourself , keeping in mind your style and likes and dislikes. This class  is good for any age group. It will be a concentrated 1-day educational makeup course. We offer 4-hour makeup workshops with lots of time for hands-on guided practice and questions: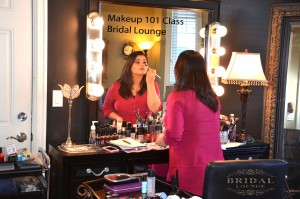 If  you wonder how to create the perfect eyes, base, cheeks, and lips for stunning and flawless looks, this workshop is for you.Discover how to even out your skin tone and conceal blemishes for a professional finish that lasts the whole day.  Learn the tricks of the trade in blending and picking colors suitable for your skin tone/texture.
Makeup 101 Class duration – 1 Day (4-5 hrs)
You will be required to bring your own makeup to take this class. During the Class, Nupy will show you the best products suited for you and the basic brushes required to create  your dream looks. You can take down notes and shop for these tried and tested products at your convenience.
To Enrol – Please fill our contact form or email at Bridal_Lounge@yahoo.ca