Hair Design
Hair Design Certificate Program
Enhance your hair styling skills like a pro
Bridal Hair Design Certificate Program
Duration: 4 days
Time: Daytime and evening classes available
This four-day course will develop the skills and techniques required for latest hairstylists. Build your confidence in professional styling for a wide range of occasions including special events, weddings, glamour, red carpet and parties.
PROGRAM CONTENT
Using professional hot tools such as wands, curling irons and hot rollers
Learning the use and effects of hair sprays, waxes and different combs and brushes
Hair extensions and pieces
Curling hair in designs like ½ up ½ down, pinned, barrel and intricate
Sectioning and backcombing techniques
Glamorous red carpet styles including side, simple, soft elegant, smooth and detailed
Bridal hairstyles including hair pieces and accessories such as, tikkas, flowers and passa's.
Email us for more details about the program
REGISTRATION
To register for Bridal Lounge, Certification Program and reserve a seat, you'll need to submit your name, program of interest and arrange payment for the 50% booking deposit. Class size is limited and places are reserved on a first come, first served basis.
Register now: email us at Bridal_lounge@yahoo.ca
CERTIFICATION PROGRAM DETAILS
Booking deposits of 50% are required at time of registration
Full payment is due on the first day of class at the latest
Program is open to applicants 16 years and older
PROGRAM COMPLETION
Successful completion of the Bridal Lounge, Certificate Program is based on an assessment to ensure students have got the essential hands on training that will inspire and motivate graduates to excel in their career. Upon graduation, past students have found successful opportunities as freelance artists, business owners and beauty consultants with cosmetic companies. Bridal Lounge, is committed to building the continuous success of our graduates by inviting and informing them of upcoming events, fashion shows, photo shoots, media, TV, film, etc. and giving graduates ongoing opportunities to build their skills, confidence, portfolio and expand your business.
As a professional artist, graduates will be entitled to beauty industry professional discounts at whole sale beauty supply stores.
Hair  Design 101 Class
Duration : 1 Day (5 hours)
Bring your own tools and learn how to create some fun party looks on yourself.  In this class, Nupy will cover the most easiest ways for you to look glam by teaching some tricks of the trade, some great products and suggesting some tools that will ensure the best Bollywood / Red Carpet glam hairstyles we all dream of.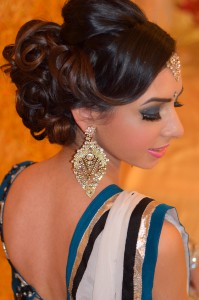 This Class will cover the following –
– How to Curl your own hair with Curling Irons
– How to create beautiful Beach waves
– Fish Tale Braid or How to use Pranda.
– Your choice of non bridal updo
– How to use Hair Extensions
This Class is not limited to the above curriculum. If you are interested in learning more than listed above, we can make a custom package that will satisfy your requirements. Please mention when you register.
To Enrol in to Hair Design 101 Class – email us at Bridal_lounge@yahoo.ca or fill in the contact form.